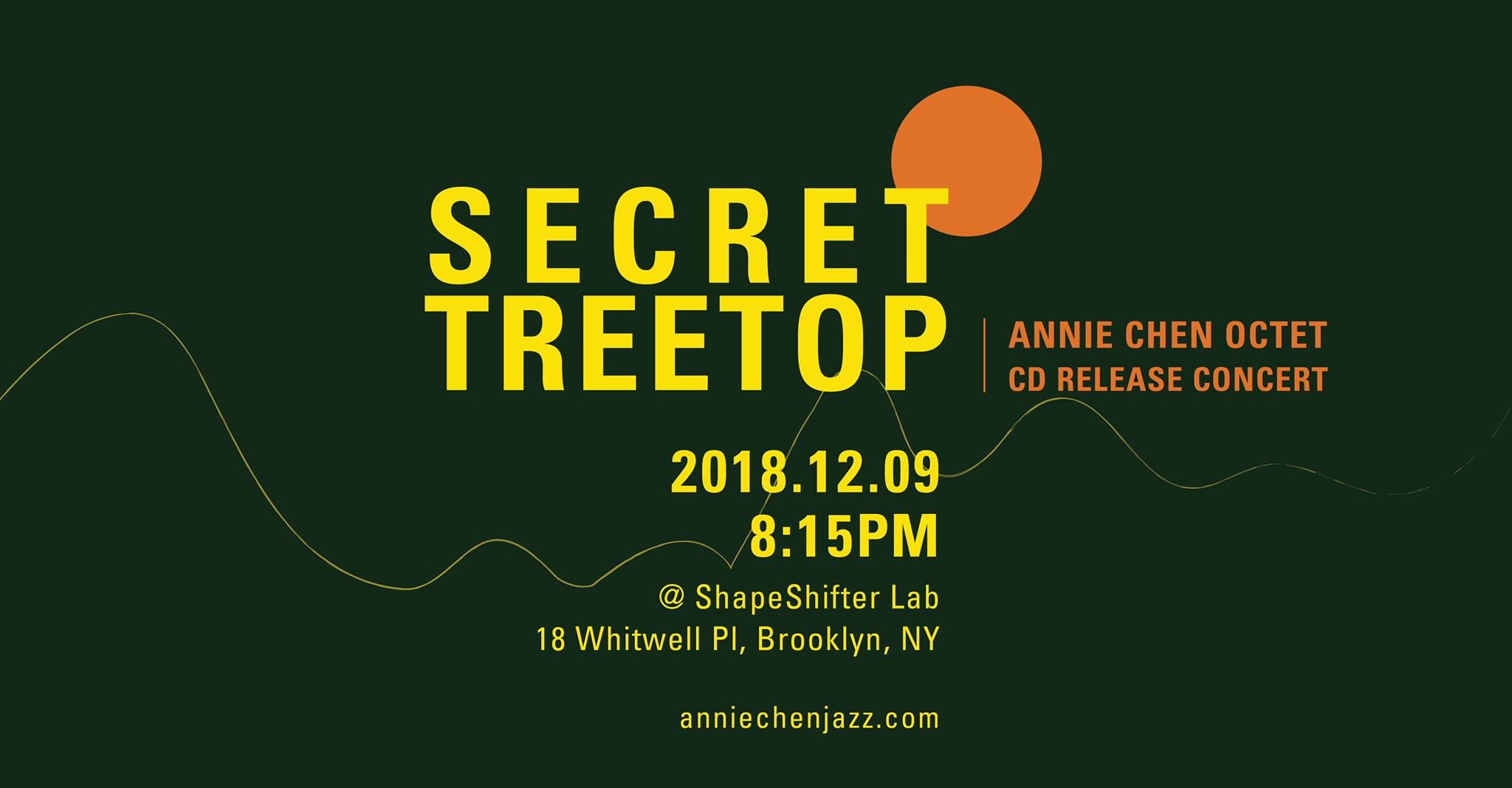 Grupp/artist
Annie Chen Octet
Titel
Secret Treetop
Skivbolag / Distro
Shanghai Audio&Video Ltd. Co. + BandCamp
Genre
N.Y. Jazz / WorldJazz
Format
CD
Utgivningsår
2018
Cat. No.:
C2-X18615
the Band:
Annie Chen (vocals/compositions/lyrics)
Tomoko Omura (5-strings violin)
Alex LoRe (alto saxophone/flute) [4]
David Smith (trumpet/flugelhorn) [7]
Rafal Sarnecki (electric guitar/arr.)
Glenn Zaleski (piano)
Mathew Muntz (bass)
Jerad Lippi (drums)
Låtlista
1. Ozledim Seni 06:32
2. Majo Kiki in 12 Days 07:06
3. Ao Bao Xiang Hui (A Date in the Yurt) - Inner Mongolian Folk Song 10:09
4. Secret Treetop 08:13
5. Orange Tears Lullaby 07:00
6. Mr.Wind-Up Bird, Strange Yearning 07:44
7. Leaving Sonnet 05:48
8. Gan Lan Shu (Olive Tree) - Taiwanese Folk Song 04:26
9. My Ocean is Blue in White 03:24
All Apologies [digital release only] 06:48
New York Jazz
New York-baserade kinesiska vokalisten Annie Chen släppte i slutet av 2018 sitt andra album - Secret Treetop. Debutens sextett är nu utbytt mot oktett. Endast gitarristen Rafal Sarnecki, som för övrigt arrangerat låtarna på Secret Treetop, finns kvar. Det är snyggt förpackad världsjazz som serveras. Det är inte bara stilskiften mellan låtarna utan även i låtarna. Det låter nästan som om Chen försöker göra ett varv runt jorden i varje låt. Trumpetaren David Smith får mej att tänka på Peter Asplund. Violinisten Tomoko Omura ömsom plockar på sina 5 strängar, ömsom vackert stråkar. Glenn Zaleski tar stundtals pianots tangenter smekandande lätt, stundtals hårt ock skoningslöst. Jerad Lippi jobbar hårt bakom trummorna mest hela tiden. Alex LoRe alternerar mellan altsax ock flöjt. Mathew Muntz vassaste bassolo finner vi på All Apologies som tyvärr inte finns med på CDn, utan endast som nedladdningsfil.
Det Annie Chen komponerat ock med sin oktett levererar på Secret Treetop är intensiv världsjazz samlat ock dokumenterat i en studio i New York.
Kolla in mer på AnnieChenJazz.com
Lennarrrt "Mr Z" Olausson
www.ib2.se